Ferrite Phase Shifters and Other Waveguide Components and Subsystems

Product Information Brochures
The brochures listed and categorized below contain information and photos on a variety of MAG products. Individual brochures highlight specific products as well as general information about Microwave Applications Group.
All documents are downloadable PDF files, requiring Adobe Acrobat Reader 3.0 or later–available free from Adobe–to read the files. Click on the title of each individual brochure to download or view.The information in each document is current as of the date of issue and upload to this site and should be used for reference only. MAG reserves the right to supersede information at any time. Contact us for questions related to a specific application.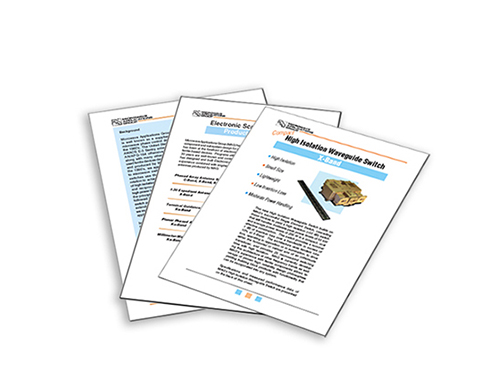 GENERAL INFORMATION BROCHURES
PHASE SHIFTER AND DRIVER BROCHURES
WAVEGUIDE SWITCH AND RESOLVER BROCHURES
ANTENNA AND SUBSYSTEM BROCHURES
Company and Products
Microwave Applications Group (MAG) has a proven record of creativity and innovation in microwave component and subsystem design for government, military, and commercial applications...
MAG Horizons
MAG is developing products to meet customer needs, where former providers are no longer producing those products, as well as providing divergent solutions for different approaches to similar...
What's New 2012/DMSMS Support
Microwave Applications Group (MAG) has a proven record of creativity and innovation in microwave component and subsystem design for government, military...
MAG Background and Products 2016
MAG continues to supports systems, as we have since 1969, on land, on the sea, and in the air.
Dual-Mode Ferrite Phase Shifters
The MAG dual-mode phase shifter is the only reciprocal latching, ferrite phase shifter that has been made in large quantity. This phase shifter uses a quadrantally...
Rotary-Field Ferrite Phase Shifters
MAG analog rotary-field ferrite phase shifters are uniquely designed to provide an unlimited phase shift with modulo-360 degree phase control characteristics that...
Synthetic Aperture Radar Components
Synthetic Aperture Radars provide extremely high resolution imagery from long ranges in all types of weather, day or night. Microwave Applications Group (MAG)...
Latching Rotary-Field Phase Shifters
MAG's Latching Rotary-Field Ferrite Phase Shifters combine the best of phase shifter technologies. Latching Rotary-Field Ferrite Phase Shifters offer true modulo-360...
Toroid Phase Shifters
MAG continues to broaden its product line with the addition of toroidal phase shifters. These units provide good VSWR, low insertion loss, and minimal insertion phase variation.
Electronic Drivers for Dual-Mode Ferrite Phase Shifters
Most ferrite phase shifters are constructed from a continuous section of ferrite with the phase shift quantization, frequency compensation and...
Switches
MAG is well known as a supplier of ferrite microwave phase control devices since the 1960's. U S Air Force AWACS E-3 Sentry aircraft, B-1B Lancer radar and many other programs have used ferrite...
Ferrite Waveguide Multiplexer
Ferrite Waveguide Multiplexers allow the user to configure connections between a number of RF inputs and outputs through a single device.
L-Band Polarizer
This L-Band Polarizer sets a new standard for air-cooled ferrite control devices required to operate at high average power levels. Capable of switching between vertical linear and right-hand circular...
Resolvers
Airborne roll resolvers transform data from aircraft to other coordinates, whether looking down at the earth or maintaining satellite contact. Also used where variable multiplexing is required.
Single Element Switch
The Tandem-Rotator Reciprocal X-Band Ferrite Switch uses 0° and 90° total Faraday Rotation states to achieve reciprocal connections to the desired ports. This structure operates at...
High Isolation Switch
This new compact High Isolation Waveguide Switch builds on MAG's successful Single Element Switch, cascading these devices to yield a high isolation (greater than 50 dB) switch that still...
Toroid RF DPDT Waveguide Switch
Microwave Applications Group (MAG) continues to broaden its product line and is pleased to offer a non-reciprocal toroidal DPDT waveguide switch. This X-Band switch offers...
MAG Electronically Scanning Antennas
This brochure contains general information on a variety of antennas developed by MAG for various programs. More specific information for several antenna systems may be...
I-30 Phased Array Antenna
The I-30 Phased Array Antenna is an electronically steerable antenna designed for test range instrumentation applications. The antenna consists of a phased array transmission lens with a...
Ku-Band Electronically Scanning Antenna
This covers a small Ku-Band antenna designed to provide scanning capability for the terminal guidance system of a ground-to-air missile. Two-axis monopulse tracking is...
Millimeter-Wave Antenna
The MAG Millimeter-Wave Antenna Subsystem is phase scanned in both azimuth and elevation planes with a beamwidth of 18.5 degrees in elevation by 2.0 degrees in azimuth, and a scan volume...
Transportable Phased Array Antenna System (TPAAS)
The MAG transportable phased array antenna systems (TPAAS) are a family of ruggedized, low-cost electronically scanning antennas designed for test...